ABBA By Micke.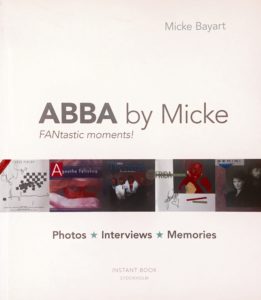 Micke Bayart is the author of the book 'ABBA by Micke', written in English. Accompany on 120 pages a group of dedicated ABBA fans in the mid 80s, covering small and major events involving members of ABBA for a German fan club publication named ABBA Fan-Blatt.
In fact, by that time, ABBA had already disbanded as a group and the members had launched new careers. Björn and Benny were receiving attention for their musical, Chess, while Agnetha and Frida were releasing their own solo albums. In this book, we follow in the group members' footsteps through articles  from Fan-Blatt. The most striking feature, of course, is the fact that ABBA Fan-Blatt met the members and interviewed them on several occasions. These meetings took place in connection with ABBA's appearances in Germany, at Polar Studios or in the Polar Office in Stockholm. For even if ABBA's golden days were over, there were still a great many fans that were eager to be kept up to date about news of the group.
Reviews
"Feel like you keep seeing the same old Abba pictures all the time? (…) you really won't have seen the majority of these pictures (…) lovingly crafted scrapbook."
British magazine CLASSIC POP, May/June 2013 issue, rates the book with three ⭐️ ⭐️⭐️ (out of five), London April 2013
" (Micke's) memories are now published as a book. Looking forward to 2013 with 'ABBAM' – Agnetha, Björn, Benny, Anni-Frid – and Micke"
Swedish magazine NORR, issue 4/2012, Stockholm, on the upcoming ABBA museum in 2013 and "Abba by Micke"
" (…) more intimate is Micke Bayart's collection of Abba photos (…) Interviews with band members and reminiscences (…) add a more personal dimension (…). "
British magazine RECORD COLLECTOR, No. 403, rates the book with three ⭐️⭐️ ⭐️ (out of five),
London July 2012
"If you want to know more about the ABBA time in the 80's, read in- depth fan-stories and see wonderful, never before published photos, this is the perfect book to read. It is exciting to finally read more (…) than to read how ABBA got together again and again. "
International ABBA Fan Club "ABBA Intermezzo", Germany, October 2011
"Abba by Micke" is an Abba-reunion in miniature for all Abba fans to be part of."
Swedish QX magazine, Stockholm November 2011
How to order
Please send an e-mail for your personal copy.
State clearly the quantity of books, your name and address when placing your order. After that, you receive an e-mail summarizing your order.