About Micke Bayart.
Micke Bayart is an author and freelance photographer based in Stockholm, Sweden.
PICTORIAL MUSIC | This exhibition represents a collection of both Swedish and international musicians, artists and singers from the 1980´s up to until today – ABBA, Marie Fredriksson (Roxette), Mando Diao, Wyclef Jean to name but a few. For past exhibitions please visit the Exhibition site.
PHOTO ACCREDITATIONS | Accreditations include Swedish Music Hall of Fame, Stockholm's Culture Festival, Stockholm Pride, ABBA The Museum, Anna Lindhs Memorial Fund, Swedish Film Institute, GRAMMIS, Södra Teatern, Spanish Bombs Madrid, Debaser, Julgalan, Medelhavetkultur, Swedish Music Award 'Rockbjörnen', DN konsert, The Local Sweden a.m.m.
EDITORIAL | Micke Bayart´s photos and interviews with companions  who were during the 1970´s involved with Swedish pop-group ABBA are regularly published in the group´s fan-club magazine 'ABBA Intermezzo'. Interviews include Nils Landgren, Janne Schaffer, Micke B. Tretow, Sven & Lotta, Owe Sandström to name but a few.
BOOKS | In August 2022, Micke Bayart´s new book "ABBA in Deutschland. 1973-1983" is being published, which sums up Abba's career in Germany.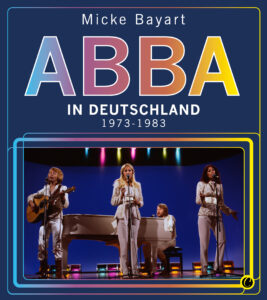 Micke is also the author of ABBA by Micke , and he has as well written the exhibition booklet ABBA by Calvero for an fine-art exhibition 2015 at ABBA The Museum with iconic pictures of Anni-Frid, Benny, Björn and Agnetha by Swedish photographer Torbjörn Calvero. This 48 pages booklet tells the story of Calvero´s work, comprising his period with ABBA as well as additional information on the exhibited 15 pictures.